Hype vs. Value: Delivering Value from Innovation
Thursday, February 25, 2021
,
12:00 PM
-
1:00 PM EST
Category: Webinar
---
Hype vs. Value: Delivering Value from Innovation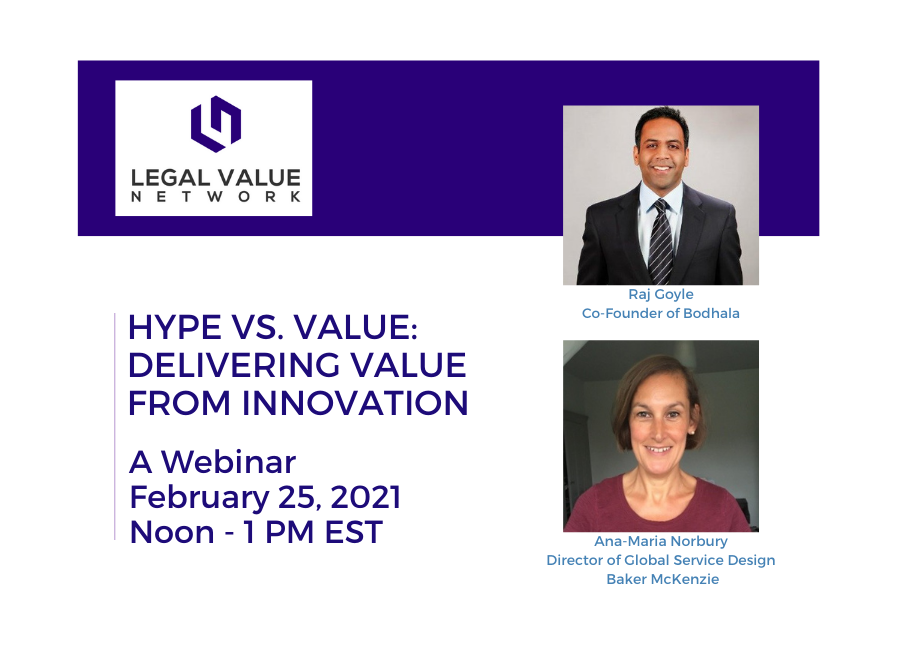 Hype relating to innovative technologies or services can create excitement and high expectations for the benefits of those innovations.  Yet, when those innovations fail to deliver on such high expectations, end users may experience disappointment and become more skeptical of related innovations. 
In a recent survey of Am Law 200 firms, two-thirds of respondents said they have a dedicated innovation function.  Legal marketing and news sources report on firms' technology adoption, all things "AI", new staffing models, and general commitments to innovation.  In a legal market crowded with promises of innovation, where do clients perceive the most value—versus disillusionment from over-hyped offerings and under-delivered value?  As innovators, how do we "live up to the hype" and best communicate the value we create? 
Please join us as our speakers discuss hype in the legal services market and examples from their own experiences managing expectations and delivering value from innovations.
Speakers:
Raj Goyle, Co-Founder of Bodhala - https://www.linkedin.com/in/raj-goyle-b7b4b75/
Ana-Maria Norbury, Director of Global Service Design, Global Operations at Baker McKenzie - https://www.linkedin.com/in/ana-maria-norbury-74255044/
This webinar is free to LVN Members and available to non-members for $75 
---
Contact: Contact Janet Diaz at: [email protected] for more information