Billing Models for a Productive Relationship: An LPPM Survey Webinar
Wednesday, March 31, 2021
,
11:00 AM
-
12:00 PM EST
Category: Webinar
---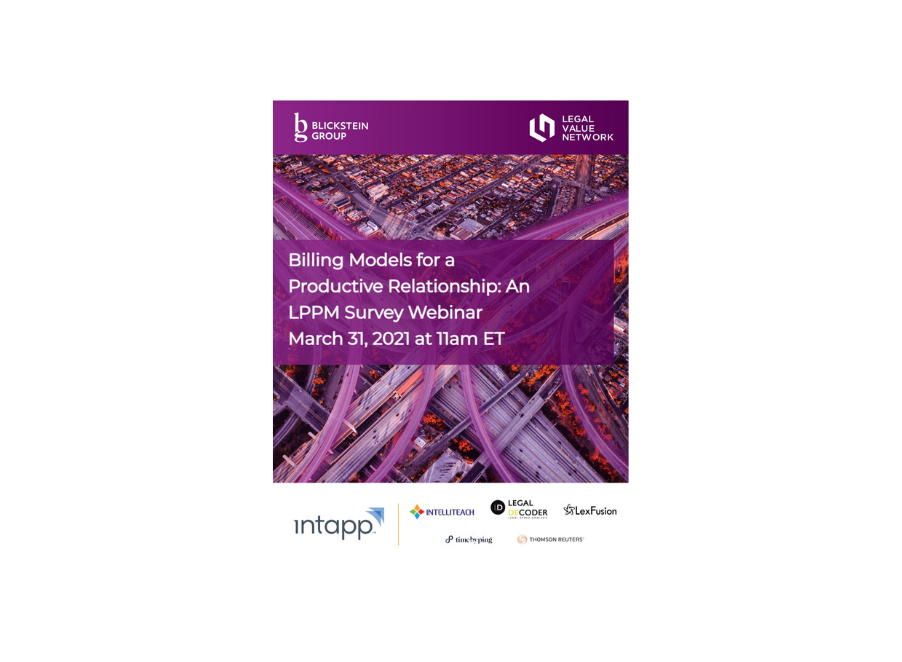 The inaugural Legal Pricing and Project Management Survey, created in collaboration with Intapp, is the first of its kind that delivers the deepest data set ever on law firm pricing and project management professionals (LPPMs), which also compares and contrasts their perspectives with law department operations professionals (LDOs) on the topics of common priority and focus.
One of the areas where we found substantial disconnects between the LPPMs and the LDOs is around billing models, with law firms struggling with the tension between delivering value and billing hours, clients struggling to be heard on enforcing outside counsel guidelines, and both groups struggling to figure out alternative fee arrangements.

In this webinar we will explore a number of data points from the LPPM Survey around billing models and the billing relationship and discuss how law firms and law departments can work together.  Some of the specific questions we will discuss include:
• Are law firm lawyers properly incentivized for client value and innovation?
• How can both sides get more out of billing guidelines?
• Can we finally figure out alternative fee arrangements?
• Are shadow bills effective or counterproductive?
• Is measuring the value of legal services more art than science?
Faculty
Christopher Ende
, Chief Value Officer at Goulston & Storrs LLP
David Cambria
, Baker McKenzie, 
Chair, LDO Survey Advisory Board
Brent Bourque, Practice Group Lead, OnePlace Operations and Finance at Intapp
William Josten, Strategic Content Manager at Thomson Reuters
---
Contact: Contact Amanda at: [email protected] for more information